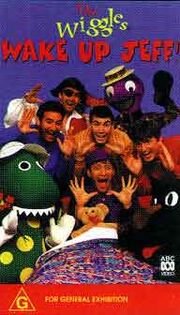 Wake Up Jeff
is the fourth Wiggles video released in 1996. This is the feature video for 1996.
Released: August 14, 1996
Song List
Edit
We Like To Say Hello
Henrys Underwater Big Band
Everybody Is Clever
Having Fun At The Beach
Bing Bang Bong, That's a Pirate Song
Bucket of Dew / Paddy Condon From Cobar
Wake Up Jeff!
Dorothy, Would You Like To Dance?
Take A Trip Out On The Sea
Romp Bomp A Stomp
I Can Do So Many Things
Wave To Wags
Pipers Waltz
The Wiggles and their friends do a goodbye dance with the song "Christmas Picnic" out of instrumental for the background music.
Stage Songs
Edit
Can You Point Your Fingers And Do The Twist?
D.O.R.T.H.Y. (My Favorite Dinosaur)